SDSS AGM 2018: Getting out of the Woods
October 3, 2018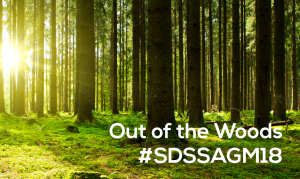 SDSS AGM 2018: Getting out of the Woods
The SDSS AGM 2018 'Getting out of the woods' is a members only event and an opportunity to discuss the work of SDSS over the last 12 months, highlight key achievements and challenges and for members to have a say about the future work and governance of SDSS.
We are hosting this year's AGM in partnership with a local member SDS Forum East Renfrewshire to showcase their work in the area.
This event will also be the official launch of our new website and improved searchable database for Independent Support. We will also launch our new joint research project with The Alliance 'My Support, My Choice.'
Practical workshops and networking opportunities along with lunch and refreshments will be provided.
This event is wheelchair accessible, there will be a number of Personal Assistants available at the venue.
Tickets can be booked online here. Support for registering online is available on 0131 475 2623 – 09.30-16:30
Programme
10:00 Registration
10.30 Morning plenary session.
11.30 AGM
12.00 SDS research plenary
13.00 Website launch
13.15 Working lunch- meet the researcher and try our new site!
14.45 Workshop session
15.45 Final questions, feedback and evaluation.
16.00 Event close
Confirmed Speakers:
Confirmed Speakers on SDS research:
Dr Dianne Theakstone Research Officer, Self Directed Support Scotland and Colin Young, Senior Policy Officer, The Alliance. Introducing a new joint research project 'My Support, My Choice;.'
Mary Njoki of Stirling University
Confirmed workshops:
Please note a full programme will be announced in due course.
The AGM.
The primary contact from any full membership organisation will have the opportunity to vote during our AGM. Votes are assigned as follows:
2 votes for full type A members
1 vote for full type B members
If the primary contact from your organisation is unable to join they are able to pass their vote to somebody else from the organisation, please let us know on the booking form if you will be voting on behalf of the primary contact.
Those from organisations with full membership can put themselves forward or nominate someone for the SDSS board by completing a form with two accompanying signatures from their own management board. Please note that an organisation can only have one representative on the board. Organisations currently represented are as follows:
DICE
DPHS Fife
Take Control East Dunbartonshire
Glasgow Centre for Inclusive Living
DG Voice
Lothian Centre for Inclusive Living
PAMIS
If you would be interested in joining our board or nominating someone please download and complete the form here. 
Getting there.
Parking
There is a car park serving Eastwood House at the rear of the building. In addition there are five spaces for disabled badge holders and these are located at the main entrance of the house. These spaces are specifically marked and for use by disabled badge holders. Drivers are asked to ensure their cars do not obstruct the entrance or exit areas and do not interfere with pedestrian movement.
Public transport 
The nearest train station is Giffnock, which can be accessed via Glasgow Central Station.
From Giffnock train station you can walk directly to the venue via Fenwick Road which will take 25 minutes
The bus number 38 will take you towards the venue via Fenwick road, you should depart the bus at Berryhill Road, the venue is a short walk from there.
Alternatively if you would like to get a taxi to the venue local taxi numbers are:
Eastwood Mearns: 0141 644 5353 (a number of accessible vehicles available)
East Ren taxis: 0141 644 0404
Hampden cabs: 0141 429 1122 (a number of accessible vehicles available)
If you have any queries about getting to the venue do not hesitate to contact Anna.