Support Choices flies the nest becoming a sustainable local advice service
July 20, 2021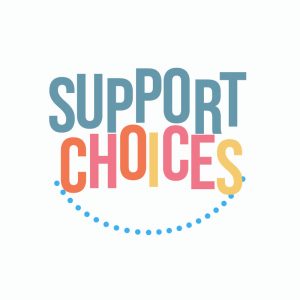 Support Choices celebrates becoming an independent advice charity, empowering people in Perth and Kinross with information.
Outside the Box started the project in 2019 to help older and disabled people and their families get the support they need to have a good life. Now Support Choices spreads its wings as part of the sustainable local wellbeing economy.
In 2013 the Scottish Parliament made a law that gives people looking for social care more choices. But people living in some areas – especially rural areas – were not getting those choices or advice to ask for what they needed. People in rural Perth and Kinross communities wanted advice in their local area. Outside the Box worked with groups in Highland Perthshire and Support Choices got started in late 2019. From the beginning the intention was for Support Choices to become an independent local charity, and now that has happened.
Support Choices provides independent information and advice, supporting people in Perth and Kinross through the process of getting social care. The communities will always need a source of advice and support – there for them and accountable to them. One of the strengths of small rural organisations is their rootedness in local knowledge, experience, and a shared commitment to address barriers to living well. By becoming its own sustainable organisation, Support Choices looks to a future where its local roots grow even stronger!
As a new charity, Support Choices will be part of the Rural Wellbeing Economy – working alongside local businesses and charities and shaping the conversation. Support Choices has good links with local social enterprises and now they'll be supported by local professionals, creating more work for people in rural areas.
Anne Connor, chief Executive, Outside the Box said: "It takes careful planning to get a project to the point where it is ready to move on and we're all very pleased to have got here. While Outside the Box is already missing having Support Choices as part of our team across Scotland, it is exciting seeing them flourish on their own.

"Outside the Box has been working with people in Perth and Kinross over the past 10 years, helping them get new things started or plan for the future. The two organisations will continue to work together, to create more opportunities for people living in this area.

"After working closely with the team as we developed the project, it is good to see them fly. In other times we would have had a party with people who Support Choices has supported, our partners and friends in the local community, but an online celebration with cake has helped us mark the occasion! Everyone at Outside the Box wishes Support Choices well for the future."
Support Choices is independent of all other services (Social Work, NHS, providers), and aims to ensure you have what you need to make informed choices. When you get in touch, Support Choices' experienced team will want to learn what is important to you or the person you are caring for. This is the starting point for one-to-one support to help you identify what care and support will work best for you.
Support Choices can help people at any stage of the social care and Self-Directed Support journey. They can also help people get involved in peer support if they are interested. To get in touch, you can email info@supportchoices.co.uk or call 01350 729130.
Support Choices staff and board are passionate about ensuring people have access to information and support around social care to allow people to make informed choices that allow them to live their life in a way that meets their needs and wishes. We are excited to continue our work in Perth and Kinross and to work alongside other organisations to improve the delivery of social care in the area, and beyond!
Support Choices is funded by the Scottish Government through the Support in the Right Direction programme and by donations.
More information about Support Choices can be found at www.supportchoices.co.uk or on Facebook www.facebook.com/supportchoicesperthshire, Twitter twitter.com/SupportChoices and Instagram www.instagram.com/supportchoices/.