Adult Social Care Recruitment
November 9, 2021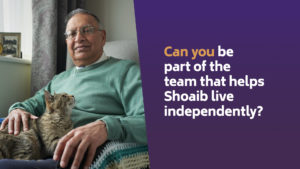 A new campaign has launched to help address recruitment pressures in relation to vacancy levels in the Adult Social Care sector.
There's More To Care Than Caring is targeted at people from all backgrounds who are looking to change career or return to work.
To support the campaign, a range of materials have been created to be shared with stakeholders and social care networks, including this useful Guide to working in adult social care.
We'd appreciate if our members could promote the campaign within their networks. You can access a full range of partner resources here.
A simple way to support is by sharing some of the following on social media:
If you're understanding and dependable, look into a career in adult social care at CareToCare.Scot #MoreToCare #WeAreScotland.
If you're patient and compassionate, look into a career in adult social care at CareToCare.Scot #MoreToCare #WeAreScotland.
If you're understanding and hardworking, look into a career in adult social care at CareToCare.Scot #MoreToCare #WeAreScotland.
If you're thoughtful and dependable, look into a career in adult social care at CareToCare.Scot #MoreToCare #WeAreScotland.
If you're creative and empathetic, look into a career in adult social care at CareToCare.Scot #MoreToCare #WeAreScotland.
If you're patient, compassionate and looking to make a difference, adult social care could be the career for you. Find out more at CareToCare.Scot #MoreToCare #WeAreScotland
For more information, please visit https://caretocare.scot/