What's next for Self-Directed Support?
November 13, 2020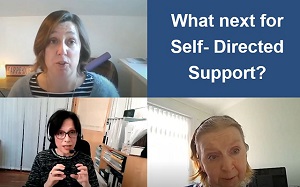 Self Directed Support Scotland's (SDSS) Chair, Florence Garabedian, recently joined leading experts in social care to share her thoughts on what's next for self-directed support in an online seminar held by healthandcare.scot.
You can watch the full event on YouTube here, however healthandcare.scot have also published two reports on the event.
The first of the reports looks at the discussion around the issues currently facing self-directed support (SDS) in Scotland. The report includes Florence Garabedian's concerns over differences between the national drive for SDS and what was happening locally.
During the event, Florence stated that there was a "disjoint" between the two with no accountability process, she warned.
She said: "Here we are with a postcode lottery situation, different eligibility criteria between one local authority to the other and local interpretations of budgets.

"As an example, if you are a disabled person with a social care package in one local authority, and you must move for whatever reason to another local authority, at the moment it is a huge gamble.

"The other local authority may not have the same eligibility criteria, what you have been supported for may not be seen as a priority for the local authority you are going to.

"That is a major setback in terms of the freedom to move in the country, as many of us can do."
Florence also said that changes had to be made to how SDS was operating.
But she said: "We have something which could give us the opportunity to do great things in social care."
In the second of the reports, healthandcare.scot looks at the discussion around how to address the issues facing SDS in Scotland.
You can read both reports by clicking the links below:
Covid highlights challenges of self-directed support