A round up of the 2021 SDS National Voice
March 22, 2021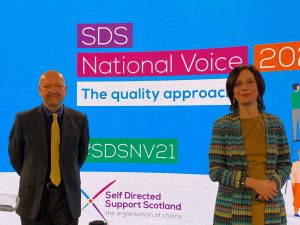 On Wednesday 17 March 2021, nearly 200 people including those with disabilities, their carers, social care professionals and Scottish Government came together virtually for the 2021 SDS National Voice. This year's event aimed to strengthen the collaborative efforts being made by Self Directed Support Scotland (SDSS) members and stakeholders, through open discussion and the launch of some innovative resources to help close the implementation gap.
Featuring key topics in Scottish social care, our fourth national event was opened by Cabinet Secretary for Health and Sport, Jeane Freeman, as she made a welcomed announcement about a reduction in available income charges for almost 1,000 ILFS recipients! Find out more about the announcement here.
The first of the day's presentations was delivered by Dr Dianne-Dominique Theakstone as she provided an update on SDSS and the ALLIANCE's My Support, My Choice research project. Following this we heard from Social Work Scotland. Alisa McAllister provided an update on the development of the National Framework for SDS Implementation, including the Standards for SDS. Our final presentation of the morning was from Derek Feeley, Chair of the Independent Review of Adult Social Care, as he discussed the findings and recommendations of the review.
Before a short lunch break, we were joined by a panel of key players in Scottish social care for a fascinating discussion as they answered questions from attendees.
The afternoon was opened with a special inclusive performance from Paragon Music and included 11 interactive workshops and some exciting announcements from SDSS.
We were proud to launch a new online forum where our members and stakeholders can come together to share best practice and discuss Self-directed Support (SDS) and social care in Scotland. You can learn more about the forum here.
Jeremy Adderley, SDSS Operations Manager, also announced a digital update of the 2014 Personal Assistant (PA) Employers Handbook. Following a survey, it was clear that an online resource was wanted by PA employers, but a physical version would be more inclusive. So, SDSS launched a project to do both: online guidance and resources that can be printed on demand. With the help of a working group, plus two reference groups, a draft version of the PA Employers Handbook was showcased at the event.
The new PA Employer Handbook will be launched on Wednesday 31 March.
To close the event, SDSS Chair, Florence Garabedian, provided a summary of key themes appearing throughout the day and said farewell to SDSS and our members as she steps down as SDSS Chair at the end of March 2021. You can read Florence's open letter to SDSS members, friends and colleagues here.
The 2021 SDS National Voice has been greatly received and the feedback so far has been positive. We will send out an evaluation survey to attendees to gather more feedback to help us plan for future events.
Recordings from the event, including the 11 workshops, will be available on the event platform, exclusively to attendees, for the next couple of weeks. Following this, we will share the key presentations more widely.
Thank you to our attendees, speakers, expert panel, workshop facilitators and supporting organisations. We couldn't have delivered such an inclusive event without you, and we look forward to seeing you all in person for the 2022 SDS National Voice.