Applying Eligibility Criteria to people's Individual Circumstances
August 16, 2023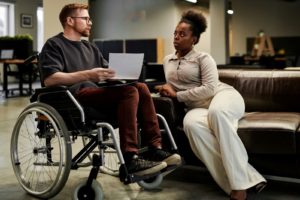 A workshop looking at Applying SDS Eligibility Criteria
This workshop will give people the opportunity to explore the meaning of eligibility criteria and look at how this is applied to someone's assessment of need.
The workshop will cover areas such as:
What the different categories for eligibility criteria actually mean in practise (eg critical, substantial, moderate and low)
How the criteria needs to be interpreted on the basis of individual circumstances and how these needs to be taken into consideration
How eligibility is applied to carers needs and the Adult Carer Support Plan/Young Carers Statement
How eligibility might differ between children and adult services
How to ask for a review or reassessment and what to expect
The workshop will take place on:
Date: Wednesday 8th November 2023
Time: 10.30am – 12noon
The workshop is being delivered by Civil Rights First, who provide a specialist Independent information, advice and support service regarding health and social care law.
You can book a place on the training here: https://www.eventbrite.co.uk/e/applying-eligibility-criteria-to-peoples-individual-circumstances-tickets-696499949097?aff=oddtdtcreator
There are also a few limited places for people using SDS and carers.
The training session will take place on Zoom. If all places are booked, please get in touch to express your interest in a future session. If you have any questions about the training, please get in touch with Mark Han-Johnston to discuss further at:
Tel: 07949 143433
Email: mark@sdsscotland.org.uk