SDS National Voice 2024
November 16, 2023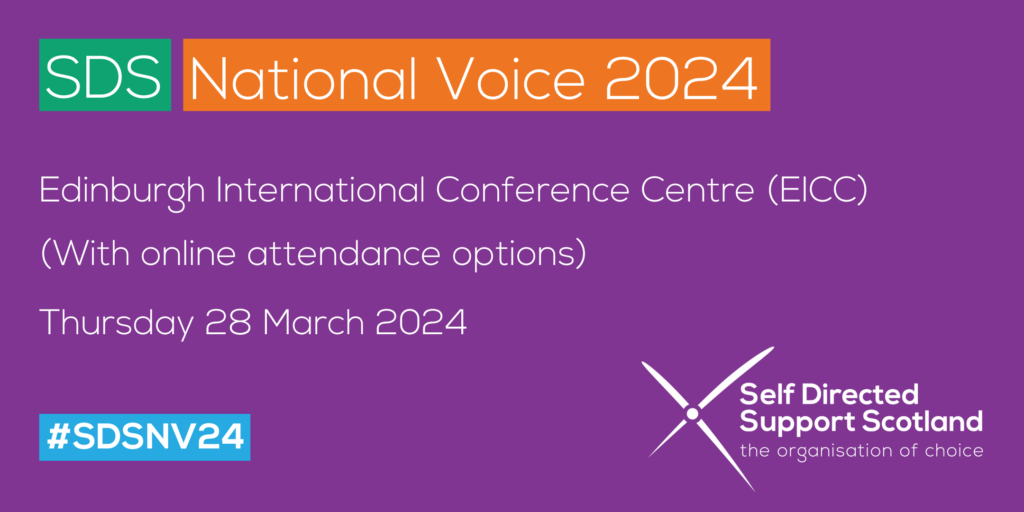 SDS National Voice is Scotland's only national conference dedicated to Self-Directed Support.
In 2024 we'll be returning to the Edinburgh International Conference Centre for an in-person event, giving attendees the chance to network and make connections across the sector.
Plenary sessions will be live-streamed to those who prefer to attend online, with the option to attend online workshops too.
Early Bird tickets
Early bird tickets are now available for those who wish to attend in-person. Secure your space now for a 30% discount on your ticket.
The conference is open to everyone with an interest in Self-Directed Support, including people who use social care support, carers, and professionals at all levels from across the sector.
A range of ticket options are available, with free places for supported people and unpaid carers. These tickets will be released early in 2024.
Programme
The conference will be taking place at a pivotal moment for SDS, with the first year of the national SDS Improvement Plan complete, marking the tenth anniversary of SDS legislation – with the Parliamentary post-legislative scrutiny process ongoing – and in the context of developing plans for the National Care Service.
You can look forward to a packed programme of presentations, workshops and information sessions across the day. Full details of the programme will be announced soon.
Information stands
There will be spaces available for organisations who wish to host an information stand during the event. Please contact us at info@sdsscotland.org.uk if you are interested in hosting a stand.
Workshops
We are also keen to hear from people across the sector who'd like to host a workshop – whether in person or online – in a topical or emerging area of SDS practice. Please contact us at info@sdsscotland.org.uk if you'd like to host a workshop.
Sponsorship
We welcome notes of interest from sponsors who can help us deliver a quality event that gives attendees good value for money and ensures people who use SDS, and carers, can attend free of charge. Please contact us at info@sdsscotland.org.uk if you would like to discuss sponsorship opportunities.
Accessibility
We aim to make the event accessible for all those who wish to attend. You can find information about accessibility at the EICC venue on their website: https://www.eicc.co.uk/visiting/disability-access/
Please let us know when you place your order if you have any accessibility needs.
BSL interpretation – if you require BSL please let us know by 1 March 2024 to ensure we can book interpreters. Auto-generated captions will also be available for those attending online.
If you need support to register please contact us at info@sdsscotland.org.uk or 0131 475 2623.
Get in touch
If you have any questions about the conference please get in touch: info@sdscotland.org.uk