Making a lasting difference: sustaining non-profit organisations and their impact.
May 6, 2019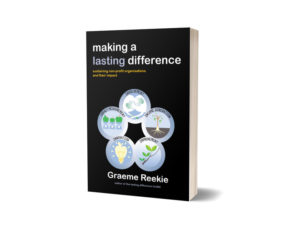 Graeme Reekie of Wren and Greyhound has recently released a new book 'making a lasting difference' which is based on the popular lasting difference toolkit on sustaining non-profit organisations. Offering creative insights and straightforward definitions, the book introduces the five capabilities of sustainable organisations and the steps that can be taken to achieve them:
Involvement
Income Generation
Innovation
Improvement
Impact Measurement
The book is grounded in practice, containing practical models, methods and tools for assessing and addressing sustainability, with straightforward examples and illustrations. You can read more about the book and the lasting difference toolkit here. 
The book is available as a 220 page paperback for £14.99 and as a Kindle e-book (£4.99) from Amazon and via Flying Underground.