Self-Isolation Information and Support
November 18, 2020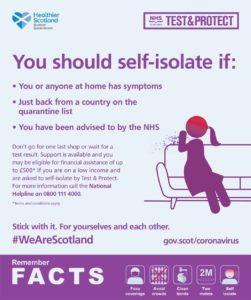 We know that self-isolation is very important in stopping the spread of coronavirus. We also know that self-isolation can take its toll on our physical and mental health. That's why making a plan for self-isolation is also very important.
Signs of coronavirus are a cough, high temperature or loss/change of taste or smell. If you get any of these, you need to self-isolate right away and stay home for 10 days. You can't just pop to the shops. If you have children, they need to stay home from school too. Others in your household should stay home for 14 days in case they develop symptoms. That includes everyone who lives in your home. This is so you don't spread the disease to others, and to protect your local community.
To self-isolate means staying at home, with no other households coming inside. So, it's worth having a few things at home ready. These should include:
Medicines you usually keep handy in your home
Basic food supplies
Contact details of someone or an organisation who could help, if you need it
We know it is hard, but support is available. If you don't know anyone who can help you get food or medicine, call the National Assistance Helpline on 0800 111 4000 (Monday to Friday 9am to 5pm).
If you're self-isolating and feeling lonely and would like someone to chat to, your community group can help. If you're worried about your mental health, please visit www.clearyourhead.scot. Our 'Find Help' button at the top right of this page also helps identify your local support organisations in relation to SDS.
You can view the Scottish Government's Self-isolation information and support factsheet here.
Remember, if you have any of the symptoms, you and your whole household need to stay at home and get a test straight away. You can do this online at NHSinform.scot/test-and-protect or by calling 0800 028 2816 if you can't get online.
For more coronavirus information and support, please visit our statement on Covid-19.