Save the date! SDSS AGM 2020. (Members only)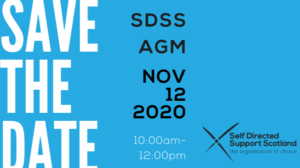 SDSS look forward to welcoming members at our 2020 AGM, which this year will be hosted online, so that members from across Scotland can join us with ease. As always, this will be an opportunity for members to come together to discuss the key challenges over the last membership year & learn from each other.
We know that members have played a vital role in the COVID-19 response, and we are committed to delivering an event packed with the most useful content for you. We are closely monitoring the current situation to decide what this will look like. More information about the event theme & content will be released in due course. Lookout for more information which will be coming your way soon!
If you have any queries/suggestions as to how we can best deliver this online event to meet your organisations needs, do not hesitate to get in touch.