SDSS AGM 2018: Programme launch!
October 25, 2018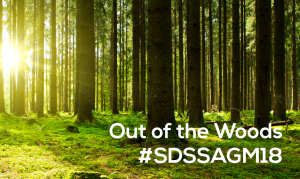 SDSS are delighted to release the full programme for our upcoming AGM on Thursday 1st November which will be an opportunity for members to  discuss the last year and hear more about upcoming SDSS research. This event will give members an exclusive look at our new and improved website and database for Independent Support. During the afternoon session delegates will have the opportunity to participate in a series of practical workshops exploring Option 2, data protection, advocacy for children and young people, challenging barriers and the new National Implementation Plan. Click here to view the full programme.
A reminder to members that booking closes tomorrow the 25th October at 5pm, book your place here now!
The venue.
The AGM will take place at Eastwood house in Giffnock, East Renfrewshire are co-hosts are local members SDS Forum East Renfrewshire. 
Getting there.
Parking
There is a car park serving Eastwood House at the rear of the building. In addition there are five spaces for disabled badge holders and these are located at the main entrance of the house. These spaces are specifically marked and for use by disabled badge holders. Drivers are asked to ensure their cars do not obstruct the entrance or exit areas and do not interfere with pedestrian movement.
Public transport 
The nearest train station is Giffnock, which can be accessed via Glasgow Central Station.
From Giffnock train station you can walk directly to the venue via Fenwick Road which will take 25 minutes
The bus number 38 will take you towards the venue via Fenwick road, you should depart the bus at Berryhill Road, the venue is a short walk from there.
Alternatively if you would like to get a taxi to the venue local taxi numbers are:
Eastwood Mearns: 0141 644 5353 (a number of accessible vehicles available)
East Ren taxis: 0141 644 0404
Hampden cabs: 0141 429 1122 (a number of accessible vehicles available)
If you have any queries about getting to the venue do not hesitate to contact Anna.